Local activist battling human trafficking in PA
by Lisa DeAngelis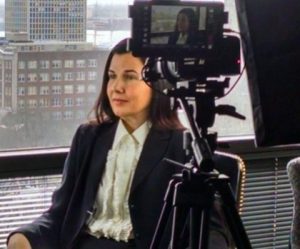 If you read that slavery was thriving in Pennsylvania, would you believe it?
Debbie Wright wouldn't have – until one night when she watched as FBI agents raided her neighbor's house for possessing videos of young children being brutally raped and tortured.
Debbie doesn't live in a city. She lives in a little river town in Bucks County.
Debbie became driven to find out how this could be going on in Pennsylvania, a state with such a rich history of abolitionism. Debbie became an abolitionist herself and what she has found out about sex trafficking, the modern-day version of slavery, was very disturbing.
Debbie hastens to report that this is not something that only happens in India or Eastern Europe. The reality is that human trafficking is a plague that has quietly spread across America to every state, in towns and cities and suburbs of every size and type, where victims have been dragged across our state and US borders.
Increasingly younger and younger children are being rented out to be raped, every single day, every single hour for profit. Debbie was so horrified at the magnitude of the problem that she left her career in the pharmaceutical industry and dedicated herself to producing a documentary to increase public awareness.
Along the way, she learned a lot.
Trafficking is built on the economic principle of supply and demand. Today's traffickers are often highly educated and very savvy about advertising on the Internet, while avoiding prosecution.
Their hunting grounds are often the very places your children frequent: coffee shops, outlet mall stores, sporting events, even family vacation hotels.
Traffickers are shrewd about selecting victims. Factors that make people most susceptible to trafficking are low self-esteem, experiencing abuse or neglect, being in foster care, being homeless, living in poverty, and identifying as LGBT.
Debbie says that traffickers "fish for what sticks and what doesn't stick."
Whatever it is that the individual feels lacking in life and so desperately seeks, the trafficker provides, at least for a while.
Then come threats and manipulation to ensure cooperation. By then, the victim may no longer feel capable of leaving even if the opportunity presents itself.
One of the reasons Pennsylvania is particularly attractive to traffickers is geography. The "Keystone" state makes transporting human beings for sale particularly easy, lying as it does along the I-95 corridor.
Pennsylvania provides access to seaports, airports and train stations, as well as being a destination state for big conventions and sporting events.
While Pennsylvania used to be one of the states least likely to hold traffickers accountable and also least able to protect victims, recent strides have been made in legislation and rehabilitation of victims.
The prevalence and the horrific consequences that victims suffer led Debbie to form the Do What's Wright Production Company and to make the documentary "From Liberty To Captivity," which she hopes, with the help of the public, will come out in 2018.
Debbie says, "Getting this far is nothing short of a miracle."
There were times when she wasn't sure how she was going to pay her electric bill and wondered if the documentary would ever make it to completion. Then just when she was ready to give up, something would always happen to keep her going.
Like the time a letter arrived in the mail with five dollars in it that read, "I heard your ad and could not help crying. I have six children myself and when I hear stories about these children being abducted or sold as sex slaves, I hug my kids even tighter. I don't have a lot to give, but your cause is definitely worth more than what is in this envelope. May God be with you as you complete this project."
That is Debbie's mission now, to complete the documentary and show the movie in all 67 Pennsylvania counties because that is the goal – to make people aware that it's taking place in their own backyards, to stand together and say, "Not in my neighborhood."
If you would like to help finish the film and get it up on the screen, maybe have a fundraiser or a garage sale, Debbie can be reached at wpdeveloperldg@gmail.com.
Depending on the level of donation, your business can have its name on the movie credits. To make a tax-deductible donation, make checks out to Filmmakers Collaborative and mail to P.O. Box 26, Titusville, NJ 08560 or donate with a credit card by going to www.fromlibertytocaptivity.com/donate.
More information about the documentary is available at www.fromlibertytocaptivity.com.
The National Human Trafficking Hotline is 1-888-373-7888.
Debbie asks those reading this, "Please spread the word at your church, your school, your work place, and let's take back Pennsylvania county by county."
PHOTO CAP: Federal Prosecutor Michelle Morgan being interviewed for a segment in the film.